Samantha, a sixteen year old who has Rett Syndrome is not the first teenager with significant special needs I have worked with who has accomplished basic literacy, and I know she will not be the last. I believe that
literacy is a life skill
and a human right. I've featured Samantha as she has learned to read on this blog twice. Recently I have been asked how it was she learned to read and if we followed any curriculum.
This is my attempt to explain how Samantha came to be a reader. In short, we did not follow any curriculum. I did take much guidance from the
Non-Verbal

Reading Approach
. Also, luckily I had an amazing Reading Methodology
course when
I was in teacher school that gave me the background to be
create
a developmentally appropriate curriculum based on Samantha's needs and I was able to pull from many sources to keep her interested and engaged. How Samantha learned (and continues to learn) to read is a journey she
lead
me on and not the other way around. It was
child
-lead to the extreme, pursuing what she found enthralling and trying to find more interesting ways to help her learn when the first try (or tries) were lacking. Here are some of the things that worked:
Believing She Could
This goes without saying, but presuming competence and believing that Samantha could and would learn to communicate and read was the first step. She needed to be reminded constantly that though she battled Rett Syndrome taking away use of her hands, dystonia forcing her eyes up and head back and seizures that interrupted everything she was smart and could learn to read.
Print Rich Enviroment
Being a augmentative communication user with a robust communication system has the added benefit of automatically creating a print rich environment. Once Samantha moved to a robust system of language on her Tobii (a combination of custom boards and Sonoflex) she had print in front of her nearly every waking moment. She has access to letters through typing pages on her device. As her family and school committed to constant
aided language input
on her AAC system they frequently modeled how to go to the typing page and sound out words that could not be easily found in her system. Samantha has also always loved books. She loves picture books and age respectful books (she is currently reading Divergent using
Bookshare
and the
Voice Dream Reader App
projected to her TV with
Apple TV
). She loves being read to and reading along. She also loves the Reading A-Z app. This life long exposure to and engagement with the printed word set the stage for learning to read.
Letters and Their Sounds
For Samantha the journey started with her interest in letters and their sounds, and more specifically, her interest in how the mouth makes sounds. She was fascinated by how mouths would move to make sounds, happily watching my mouth, video clips and trying to move her own mouth into the shape of a sound. Though she rarely was able to reproduce the sound of a phoneme she often got close to making the right shape with her mouth. Samantha's interest in watching how mouths made sounds lead us to the free
Small Talk Phonemes
(and later the
Small Talk Blends
) app on her iPad. We spent many months matching letters printed on cards, letter manipulatives and letters written on a white board to the sounds that they make. Samantha played with letter sounds using manipulatives and playing games. She did some "scribbling" with letters using the
LiterAACy
software program on her
Tobii Communication Device
. We also used a lot of music videos. You can find a music video for just about any phonics concept on YouTube. We used the
Niki Play
app to give us easy access to our favorite phonics and literacy music videos. Like most learners with apraxia, Samantha does not do well with on demand assessment so we surreptitiously assessed for the knowledge of one to two letter sounds per session. Mastery was assumed when she correctly matched the letter to the sound and vice
versa just
twice, allowing us to move forward and not cause boredom or anxiety with repeated testing.
Segmenting and Blending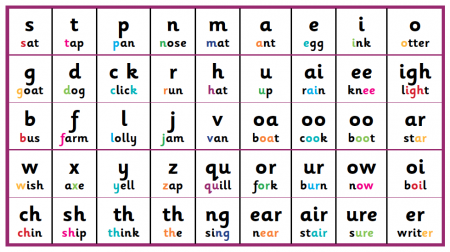 Once Samantha had mastered the letters and their sounds we began work on segmenting and blending words. Samantha's favorite way to do this was using
a drawing of a slide for blending CVC words
. This became a preferred activity and we worked through all the CVC
word families
on our letter slide. We also worked on tapping out words. This was somewhat more difficult as it was hard to find motivating ways to do a task that is usually so kinesthetic.
Digraphs, Diphthongs, Double Vowels and More
Now that Samantha had a grasp of all the basic phonemes and how to spell and read most CVC words, we began work on blends, double vowels and a variety of phonics rules. This continues to be a slow process. We work on these concepts as they present themselves. For instance, when Samantha spelled the word "
blu
" using an alternative pencil we began a journey learning about double vowels and specifically "
ue
". We watched music videos and an instructional video on YouTube. We looked at other words. I keep a list of
phonics rules
, digraphs, diphthongs and other
information to check
off as we work through these things at Samantha's pace based on her interest.
Reading for Meaning
It was Samantha who forced my hand on this. I didn't think she was ready. I was wrong. We had long been in a habit of me reading aloud text and discussing it or, if I needed data and Samantha was in the mood, having her answer questions. One day I prepared to do such an activity. She became irritated with me as I choose the harder flashcards designed to work on reading for main idea out of the box. Using facial expressions and banging her fist on her tray she made it clear she wanted to use the easier cards. I gave in. Then she told me with her Tobii, "Let me do it." So I took a chance, I held up the card and waited while she read. In the end she read three of those cards and answered the main idea question correctly each time. You can see the video on the post "
Sam is Reading
." She has done this numerous times since and we have started to offer her more and more chances to read text on her own. We have been setting up books on Bookshare with the Voice Dream Reader app set to a slower playback speed so she can read on her own. She has been known to swipe the iPad to her Bookshare book when someone comes along and switches her to a picture book instead! We are experimenting with new ways for her to use technology to access text to read on her own, for meaning. I think the sky may be the limit.
Note: Obviously I am not the only one who has been on this journey with Samantha. Her parents, siblings, PCAs, nurses, teachers and therapists have also been part of this adventure. This is just my view of the story. Many people played a role.