Today
Physorg
had an article about Hitachi introducing a device that read brainwaves to preform as a switch. Activity in the frontal cortex, such as doing mental math, activated the switch. The device uses
optical topography meaning it uses infrared light to monitor blood flow in the brain. Hitachi realizes the two pound cap isn't the best design for users.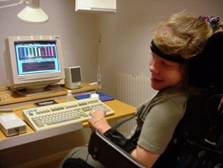 Of course similarly functioning products have
been around in A.T. for a few years. Cyberlink's Brain Fingers uses
biofe
edback to allow people with severe or multiple disabilities to access computers and AAC. Brainfingers has the advantage of taking multiple data allowing many different electrical impulses from the face, head, eyes and brain to control the application.
The MCTOS switch (Mind Controlled Operating System) uses biosignals from the brain, through a device worn on the forehead, to activate the switch. It is compatible with all toys and devices that can be used with a regular 1/8 adaptive switch. There is a MCTOS page for more info.